Small Groups
What Are Small Groups?
Small groups are a great way to deepen relationships with other members of the church and grow in your relationship with God. Small groups are more than just Bible studies.
Small group meetings are designed and led in such a way as to provide people with a mix of activities and interactions that cultivate growth in worship (learning to live our lives according to the Bible), connection (cultivating authentic relationships), growth in the Holy Spirit (both through inner healing and practicing spiritual gifts), and service to others through hospitality, missional living, evangelism, and caring for the poor.
At CVC, our small groups meet on a semester schedule, meeting in fall/winter and spring. During the summer months, we break and gather for social events with the larger church community. Available groups often change from semester to semester, and we encourage people to explore different groups to promote varied relationships among our community.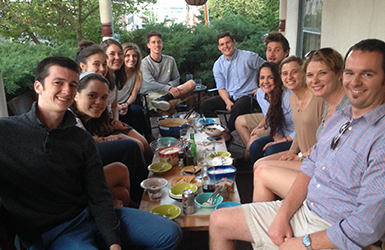 Winter 2023 Small Group Directory
Small groups are a great way to deepen friendships with other people and grow in your relationship with God. Check out the list below for when groups begin. We have both in-person, hybrid, and online options available.
Email connect@conshohockenvineyard.com to sign up.
All groups start the week of Jan 22nd, then follow the monthly pattern for February, March, & April
BERWYN SMALL GROUP
381 Castlewood Drive, Devon
1st and 3rd Tuesday nights at 7:30 PM / Led by Steve Moyer
Contact: Steve Moyer – hot_rod_1934@yahoo.com
BRIDGEPORT SMALL GROUP
419 Hurst Street, Bridgeport
1st, 2nd & 4th Thursday nights at 7:30 PM / Led by the Dentons
Contact: Erin Denton – kregaren1@gmail.com
CONSHOHOCKEN SMALL GROUP
308 Spring Mill Ave, Conshy
1st, 2nd & 3rd Wednesday nights at 7:00 PM / Led by Jess Andrews
Contact: Jess Andrews – jess@conshohockenvineyard.com
HAVERTOWN SMALL GROUP
107 Shelbourne Road, Havertown
1st & 3rd Tuesday nights at 7:00 PM / Led by Rich Andrews
Contact: Rich Andrews – rich@conshohockenvineyard.com
KING OF PRUSSIA SMALL GROUP
555 S Goddard Blvd, King of Prussia
1st, 2nd & 3rd Wednesday nights at 7:00 PM / Led by Grant & Michele Birchard
Contact: Grant – grantbirchard@gmail.com, Michele – michelle@newdp.com
Park in guest parking in front of the apartment building / For parking questions: 267-614-9152
LEADERSHIP SMALL GROUP
Wednesdays at 7:15 PM once a month / for those looking to grow in spiritual leadership.
Feb 22, Apr 26 / 381 Castlewood Drive, Devon
Mar 29 / 602 Grove St, Bridgeport
Contact: Rich Andrews – rich@conshohockenvineyard.com
YOUNG ADULT SMALL GROUP
281 Anderson Road, King of Prussia
1st, 2nd & 3rd Wednesday nights at 7:30 PM / Led by Teresa Moyer
Contact: Teresa Moyer – teresa@conshohockenvineyard.com
For young adults ages 16 – 21 years old